Q. Do I have to have a faith, or spiritual belief to come to the Glebe?
Not at all!
As a multi-faith counselling centre, we believe in working with whatever spiritual belief, or lack thereof, that you bring to the table. If your spirituality is a tool that you can use to help you cope with the concerns you bring to therapy, then our therapists are pleased and able to help you do just that. However, if spirituality is not something that gives you comfort, then it doesn't need to be discussed at all.
Q. Will we be talking about God?
If you want to! For many people, faith is understood as a relationship with God. However, for others spirituality may be more about images of the universe, love, energy, art, nature, music or many other options. For others, faith, or spirituality, may not be important at all. What's important to us here at the Glebe is that all perspectives are welcome and encouraged and when there are helpful spiritual or religious resources that these can be used to address your concerns.
Q. Do we only talk about issues of faith or spirituality
No. We have a client-centred approach to providing mental health care, which means that you and your therapist will work together on the concerns that bring you to therapy. If those concerns are spiritual, we're trained to listen and explore that with you. If they're not spiritual, we're trained to listen and explore those with you too.
Q. How many sessions will I need?
It is difficult to answer this question with an exact number of sessions since every client's situation is different. However, we would encourage you to talk with your therapist about your concern(s) and together you will determine the number of sessions. This can also be re-evaluated as you work with your therapist. Because the relationship you develop with your therapist is crucial for addressing your concerns, we believe it is important to include a closing session.
Q. Can I see more than one therapist at a time?
Sometimes, clients think it would be interesting to work with more than one therapist at a time. However, this can be confusing and ultimately not helpful. However, if you would like to try working with another therapist we would ask you to talk about this with your current therapist, have a closing session and then transfer to the new therapist.
Q. Do you deal directly with insurance companies?
No. Before each therapy session you will be asked to pay for your session and will be provided with a receipt, either by e-mail, or as a hard copy depending on what you prefer. Then, you can submit the receipt to your insurance company for reimbursement. It's always good to check on how much coverage you have on an annual basis for counselling and what credentials of the therapist are required by your insurance policy.
Q. Do you provide online therapy?
Yes – we provide online (virtual) sessions using fully PHI compliant video technology. Due to insurance regulations, to access therapy in an online format, you must be in Canada.  COVID 19 and the restrictions around social interactions has made virtual therapy instrumental in ensuring continued access to therapists.
Q. How well do you protect my information online and in office?
Our office operates under the guidelines of the College of Registered Psychotherapists of Ontario and the Personal Health Information Protection Act (PHIPA) (https://www.ontario.ca/laws/statute/04p03), so you can feel sure that your information is stored with care and consideration for your privacy and confidentiality {Link to Privacy Policy} . Your information will be kept at the Glebe for 10 years from the last day you attended therapy at the Glebe or 10 years from your 18th birthday, whichever is later.
Q. I am an adult on a limited/fixed income. Do you have reduced rates for me?
While we do not operate on a sliding scale, our training program for Practicum Students/Interns allows us to offer quality therapy for a reduced rate. Typically this rate is $60/ session for members of the community or $40/session for college and university students without insurance coverage. Please speak with your therapist about finances if they are a barrier to therapy!
Q. What kind of addictions do you work with?
We work with clients who want to deal with both substance addictions (drugs, alcohol, food), and process addictions (sex and pornography, gambling, gaming, social media, shopping). While these are some examples, it's not a complete list. If you feel that you are struggling with an addiction, we invite you to explore our therapists that work in addictions and recovery.
Q. I have experienced physical abuse at the hands of my partner. Can I still access couples counselling?
Yes – as long as there is no current legal reason why you should not be present in the same room (i.e. a restraining order), and there is no ongoing violence or safety concerns. This will be something your therapist will want to talk about in your first session in order to make sure that everyone is safe. If there is recent abuse, we would be happy to see you both individually with your own therapists until the anger management issues have been addressed and it is safe to begin therapy with a couples therapist.
Q. Who can benefit from Art Therapy?
Everyone! Art therapy is a different way to express yourself and your emotions than traditional talk therapy. It can also be useful for people who have a hard time with talking either due to a language barrier, or incomplete development of language; for those who have sensory processing issues, hearing difficulties, or poor motor skill development.
Q. What should I expect from an Art Therapy Session?
This depends on the concerns you want to talk about in therapy. At the Glebe we believe in a client-centred approach which means your therapist will work with you to determine your goals for therapy. Art Therapists are trained to address your concerns through the process of visual art making. You will not be required to talk about your artwork, but clients can find it helpful to talk about both the process of making the art as well as the art itself. Any artwork that you create in your session is yours. You are free to use whatever materials are present in the room, and express ideas about materials that may not be present the room that might help you in your process.
Q. Where can I learn more about Art Therapy?
Q. My teenager is coming for therapy. How can I talk to their therapist about what is going on at home, or at school?
We understand that as a parent, you would like to be involved in your teenager's progress. However, the therapeutic relationship is between your teen, and their therapist. The therapist and your teen may decide in their session that there are some things that would be helpful for you as a parent/guardian to know to support their growth and change. Ultimately, what information is provided to the therapist and from the therapist, is up to your teenager.
Q. Who can benefit from Play Based Therapy?
According to the Canadian Association for Play Therapy, play based therapy is helpful for children who are having difficulties at home, school, or in the community. It is also useful to those whose language skills may not be fully developed, where English is not the first language, or for whom traditional communication is difficult.
Q. What should I expect from a Play Based Therapy Session?
Before your child begins play based therapy, your play therapist will meet with you individually as the parent(s), or guardian(s). Once that is complete and your child comes for their session, your child's play therapist will invite your child into the playroom. You will be most welcome to help your child transition to the playroom if needed.
Q. I want to know how to help my child build on what they learn in therapy. Is there a way I can talk to my child's therapist about this?
Yes! Our therapists are sensitive to your needs as a parent/guardian to be part of the process, and these updates are also crucial for the therapist to understand how things are going at home, school, or within the community. Updates are available upon request, and may occur spontaneously if the therapist and your child come across something in therapy that would be helpful for you to know so that you can support their changes.
Q. My child would benefit from Play Based Therapy, but my partner and I are no longer together. Do I need my partner's permission to access counselling for our child?
Generally speaking, yes. If you can provide legal documentation that indicates that you are the sole legal guardian, and responsible for all decision making, then it may not be required, but it can be helpful. Any and all documentation will need to be reviewed by the Play Therapy Supervisor in order to make sure they meet legal requirements, and an initial consultation will be required to better understand the details of your particular situation. If communication with your partner could put you or the child in danger, or is not possible for any reason, please contact the Centre and we will review your options with our Play Therapy Supervisor.
Q. Where can I learn more about Play Based Therapy?
Here is a video that we like and you can visit the Canadian Association for Play Therapy, but also there is an article on Play Therapy that we find very helpful in explaining what Play Therapy is and how it can be used to work with children.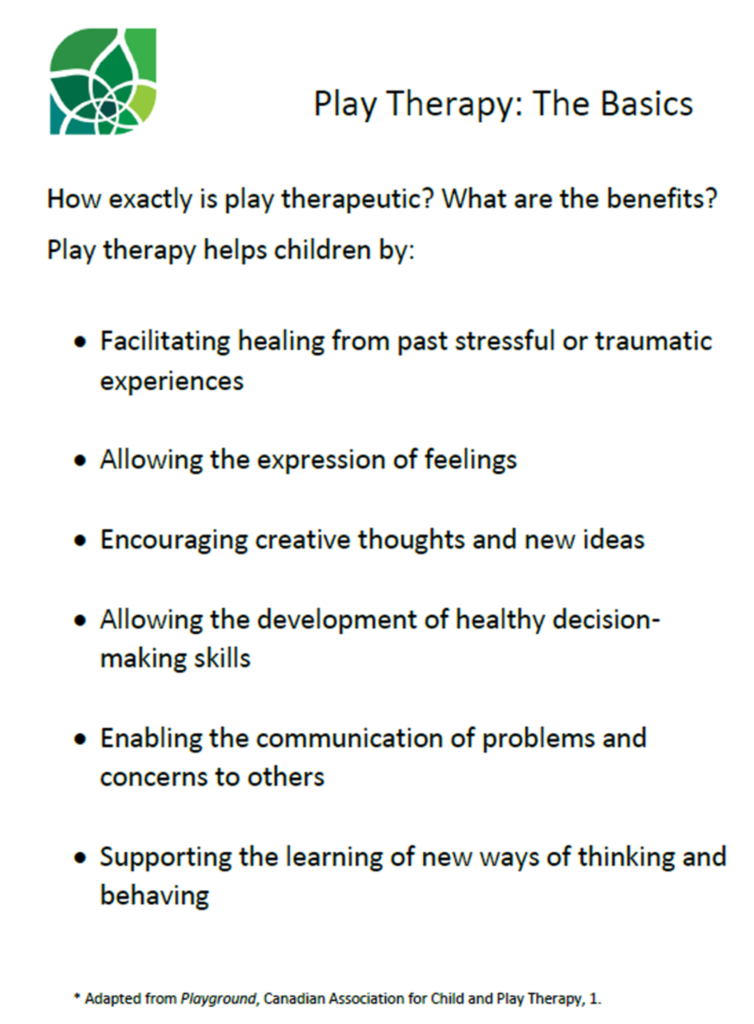 Q. My doctor says I should go to a counsellor who does CBT. Do you have therapists who use CBT? Who can benefit from CBT?
Yes, we do have a number of counsellors who can incorporate CBT in their work with you. CBT has been shown to help people who are struggling with a variety of presenting concerns. A few examples would be:
Depression
Stress
Anxiety
Eating Disorders
Addictions
If you are interested in CBT, be sure to mention it when you contact the Glebe to set up your first session and they can advise you about which therapists use CBT in their practice.
Q. I still don't get it - what is EMDR?
EMDR stands for Eye Movement Desensitization and Reprogramming and is a therapeutic approach that has been researched and found useful for individuals who have experienced trauma or have other mental health concerns. Here is a link for more information about EMDR https://emdrcanada.org/emdr-defined
Q. Who can benefit from EMDR?
EMDR can benefit people of all ages, backgrounds, and cultures, with a wide variety of concerns. Some of these include:
Stress
Anxiety
Depression
Trauma
Low self-esteem and self-worth
PTSD
Flashbacks
Intrusive thoughts
Phobias
Complicated grief
Disturbed sleep
Q. What can I expect from an EMDR session?
Taking a complete history is an important part of the EMDR process, so that is where you will start with your therapist. Then the work with taps, pulses, or beeps will begin to help you reprocess the memory in question. The process can be repeated for each memory you have that is upsetting.
Q. Who can benefit from Jungian Analytical Psychotherapy?
Jungian Analytical Pyschotherapy can be beneficial for a variety of people, but may be of particular use for people experiencing:
Health issues
Loss
Trauma
Career and spiritual crises
Relationship problems
Terminal illness
Depression
Anger/Rage
Fear of Failure
Stress
Loss of Meaning and Hope
Anxiety
Loneliness
Q. What can I expect from Jungian Analytical Psychotherapy?
Jungian Analysis is a difficult psychological journey that is usually a slow process of exploration that occurs over a longer period of time. It is a courageous endeavor supported by the safe and secure relationship between you and your therapist.  You will talk about your concerns in session but you may also be encouraged to work with symbols from your dreams, art, sand tray work or everyday events.
Q. What do I do if I need help right now, and can't wait for my appointment, or The Glebe is closed?
If you are feeling like your situation is urgent, you should call 9-1-1 or head to your nearest emergency room, whichever feels like the best option for you. Alternatively, you can call HERE 24/7 at 1-844-491 -3247 and someone there will be able to help you manage until you can see your therapist.
Q. What are some other resources I can access in my community?
We're glad you asked! Below  are some resources that we've come across – if you have any additional ones that are not listed here, please feel free to contact us and let us know as we are happy to add to our growing list