Events and Links to Check Out
Current Events and Links to Check Out
The Intersections of Sexual Activity, Substance Use and Addiction: A workshop series
This seminar series is designed to provide a discourse on the intersections of sexual activity, substance use and addiction. This will include an exploration of participant's own values, beliefs, attitudes and biases toward sexuality and the ways in which this could negatively impact clients.
3 continuing education credits for each session.
Workshop dates and topics: Session #1: May 25, 2023, 9am – 12pm – Critical Reflection on Sex and Sexuality Session #2: May 25, 2023, 1pm – 4pm – Sex Addiction, Porn Addiction & Hypersexuality – A Confused Conceptualization Session #3: May 26, 2023, 9am to 12pm – Sexualized Substance Use, Party & Play, ChemSex 101 – What you need to know when working with this population Session #4: May 26, 2023, 1pm to 4pm – The Intersections of Sexual Activity, Substance Use and Addiction – Clinical Considerations
Ticket Fees:
ONLINE: Early Bird Tickets – $199/series or $55/session Ends May 4, 2023
After May 4, 2023 – $230/series or $60/session
IN-PERSON: Early Bird Tickets – $ 250/series or $67/session Ends May 4, 2023
After May 4, 2023 – $270/series or $70/session
Non -refundable.
Reduced fees for MLUC Alumni Group rates available upon request
Please call 226-898-4016 or email glebecentre@wlu.ca for more information.
To register, please call or go to: https://forms.gle/vmX3kVSWkxkeAqu98
Each Monday from 10:00am to 7:00pm we will be offering walk-in counselling sessions at our location at 177 Albert Street, Waterloo ON, N2L3T4. Fee is $20. Sessions are 50 minutes long and can be in person or online. Clients will be seen on a first-come, first-served basis. Anyone is welcome ages 8 and up. For more information, contact us by phone at 519-884-3305 or email glebecentre@wlu.ca.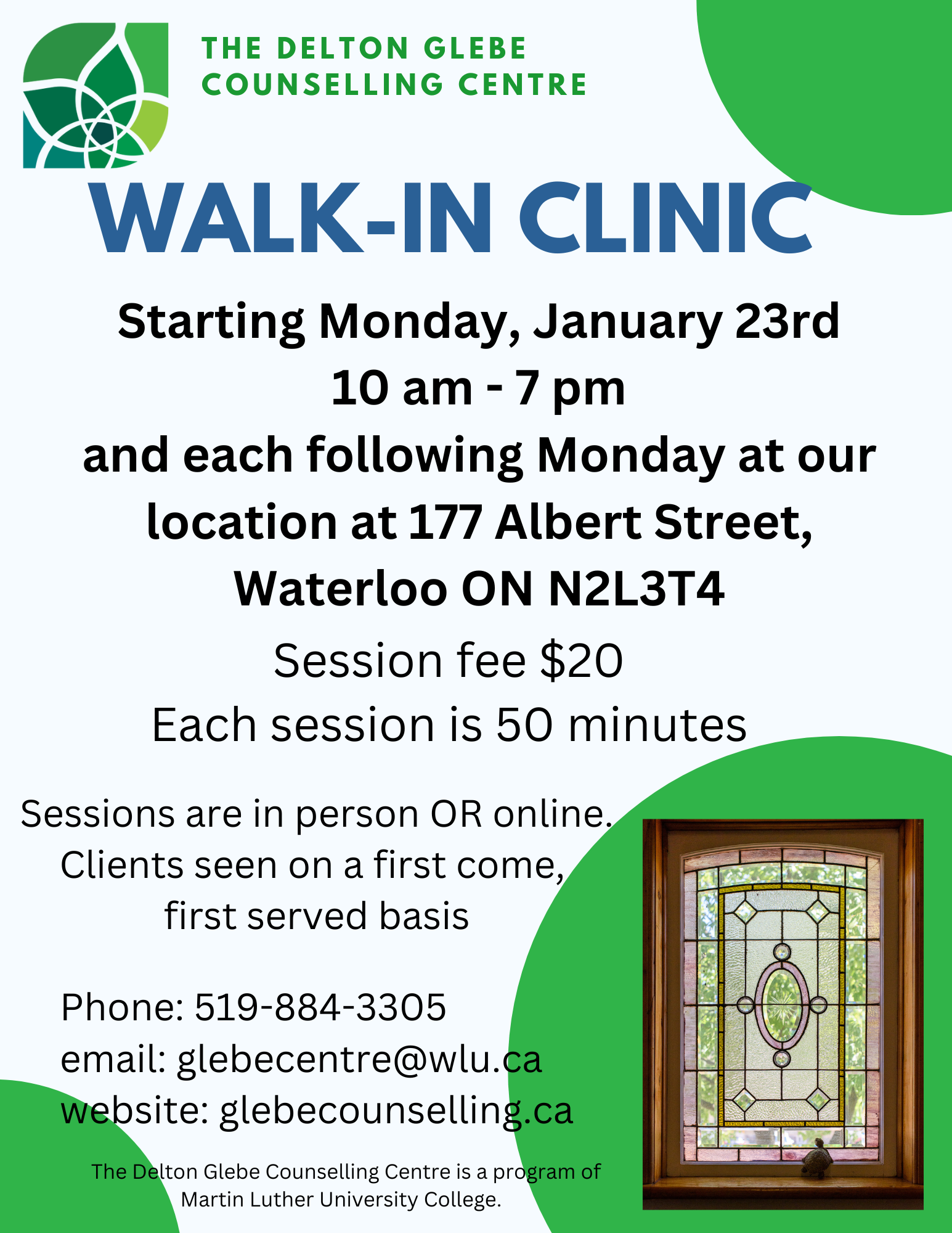 Check out this short video for Suicide Prevention Week: "H.O.P.E. (Hold. On. Pain. Ends.) "