Reaching out
Reaching out for help isn't always easy - and we appreciate you reaching out to us! At the Glebe we make the process as simple as possible.
To Schedule a Counselling Appointment
*If you are in crisis please call 911 or proceed to your nearest hospital
If you have an extended health benefits (EHB) program through your job, or a partner's employer, please check with your EHB provider to be sure which professionals will be covered by your insurance. We do not deal directly with insurance providers. You will need to pay for your appointment when you come for your session and then submit your receipt to your insurance company for them to pay you.
If you're a University student, you may have extended health benefit coverage through your school:
University Students Health Insurance
Undergraduate students
Maximum of $100/visit, up to a combined maximum of $800 per benefit year:
Psychologist**

Psychotherapist**

Social Worker (MSW)**
**Clinical Counsellors and other mental health practitioners who do not meet the above criteria will not be considered eligible for coverage under the benefits
**Psychotherapists must be in good standing with the college in their province, as well as registered as a provider with Medavie Blue Cross and be issued a provider number.
For more information go to: https://www.studentvip.ca/frmPage.aspx?school_page_id=51165560-2c58-431d-964c-3003c66db816#parentVerticalTab2
Graduate students
$500 of coverage per policy year (September 1 – August 31) with a Psychologist, or a Master of Social Work (MSW, RSW)
– This coverage is up to $30 per visit (Example: $100 session fee, you will be paid $30 by your insurer)
At the University of Waterloo undergraduate students:
Coverage for visits to mental health practitioners has increased to a combined maximum of 80% up to $800 per calendar year.
Eligible mental health practitioners now include clinical counsellors and psychotherapists, in addition to licensed psychologists and practitioners with a Master's degree in Social Work.
A referral from a medical doctor is no longer required for visits to mental health practitioners.
For more information go to: http://www.studentcare.ca/rte/en/IHaveAPlan_WUSA_Health_HealthCoverage_HealthPractitioners_Psychologists
Student plans cover Registered Social workers for 70% of their fee to a maximum of $300 per policy year.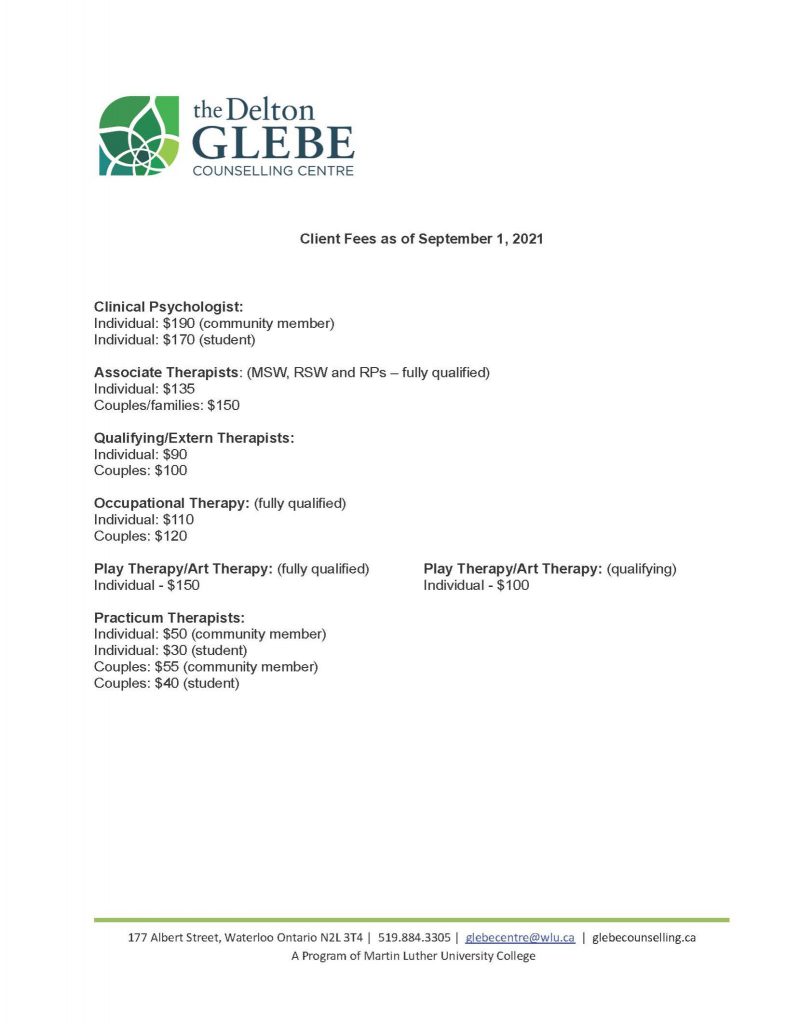 Still Not Sure What To Do?
First, fill out our online intake form below. We will do our best to contact you within two business days. Alternatively, you can also call, or email us once you have submitted your intake form to book an appointment.
If the Initial Intake Form is being completed on behalf of someone else (i.e. child, family member) please use the details (i.e. first name, last name, etc.) of the individual who would be coming in for counselling/therapy