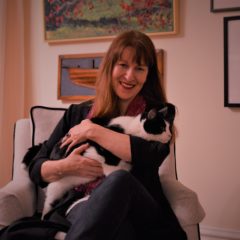 Marilyn Clarke,
DTATI (Cand.), RP (Qualifying)
Personal Statement:
I seek to facilitate emotional healing and well being based on humanistic principals of compassion, empathy and unconditional positive regard.
My aim is to promote creative exploration that encourages new and hopeful perspectives. I will support my clients in building upon existing tools in order to foster wellness and self-reliance. Working through a feminist/strength-based trauma informed lens, my approach is person-centred, collaborative and individualized in order to meet the unique needs of each client. I offer both talk therapy and art therapy.
Art therapy is intended to facilitate insights into the reasons for emotional distress by uncovering many underlying dimensions of our personal stories. Art therapy can help in integrating and understanding a range of feelings. In art therapy the emphasis is not on the product but on the creative process.
I have spent the past two decades working with women who have experienced intimate partner violence. I have witnessed the profound impact the creative process can have on emotional well-being. This experience has strengthened my belief that healing and change are possible when principles of compassion and unconditional positive regard remain present.
Areas of Special Interest:
Adults in the area of intimate partner violence, life transitions for older adults, anxiety, depression, self-harm, trauma, gender-based violence, witnessing, violence, Post-Traumatic Stress (PTS) symptoms, relationship conflict, gender related and identity matters, grief and loss, conflict within family systems, (includes working with adolescents)
Education
• Registered Psychotherapist (Qualifying)
• Toronto Art Therapy Institute, Graduate Diploma in Art Therapy (DTATI, candidate)
• University of Guelph BA