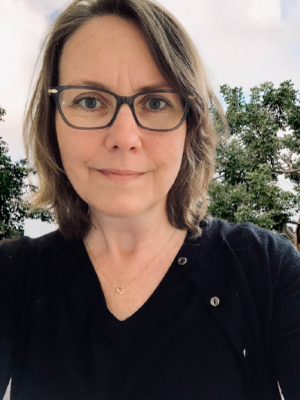 Karen Hultin,
MSW (Cand)
Personal Statement:
I believe there is no one-size fits all approach to healing. Healing occurs when one feels seen and heard within a space of kind, honest sharing. I work with clients to understand the roots of their pain rather than focusing solely on managing symptoms. I use a holistic approach, addressing the mind, body, and underlying social systems that contribute to current day struggles. I strive to integrate biopsychosocial, somatic and attachment-focused principles into my therapeutic process. I approach my work from a compassionate, collaborative, trauma-informed, anti-racist and sex positive perspective.
I integrate Somatic Experiencing® techniques into my practice, bringing coherence between what we think, how we feel and our actions. Trauma integration takes place at a slow and gentle pace, paying attention to the question: What does my nervous system need at this moment? I work collaboratively with my clients ensuring ease and care, so you are not forcing or struggling with your experience. This healing process allows a sense of safety in the present moment so you can nurture healing and strength for yourself.
My background includes working as a M.A. level therapist and educational coach during an expatriate assignment in South East Asia. I am currently enrolled in the MSW programme at Wilfrid Laurier University and I am completing my Somatic Experiencing® practitioner training.
I enjoy spending time with my 3 adult kids and my dog, Meimei. In my spare time, I look forward to sharing my love for cooking, pottery, yoga, long walks, and travel.
Areas of Special Interest:
Areas of Focus:
Adolescents & Adults
Attachment, Relationships & Parenting
Trauma & Complex Trauma
Identity & Belonging
Grief & Loss
Emotion Regulation
Life transitions & Intergenerational Challenges
Women's issues
Intimate Partner Violence
Couple & Family therapy
Education
• MSW candidate, Wilfrid Laurier University, Spring 2022
• M.A., Clinical-Developmental Psychology, York University, 1995
• B.Sc., Psychology, University of Toronto, 1993
Certifications:
Somatic Experiencing® Practitioner-In-Training (starting the Intermediate module, December 2021)
Safe and Sound Protocol
Becoming an Effective DBT Therapist with Adolescent and Their Families
Specific Learning Disabilities Certificate: Level 4 Certificate - Developing Literacy Skills in Learners with Dyslexia; Certificate in Supporting International Learners with Dyslexia