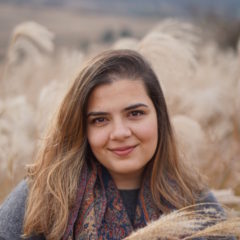 Andrea Areguy,
MSW, RSW
Personal Statement:
Taking the step to engage in psychotherapy to address challenges in your life takes a lot of determination, self-awareness, and vulnerability. To help you make an informed and intentional decision before starting this process with me, I want to share a little about myself.
I am a cisgendered, Romani woman and a settler on the traditional lands of the Anishinaabe, Haudenosaunee and Neutral Peoples. I immigrated to Canada with my family when I was a child and have lived in Waterloo Region since. My work experience and educational training have centred on community well-being and mental health, especially with immigrant, refugee, and BIPoC communities. I also have a lot of experience working with school-age youth and post-secondary students.
As a therapist, I aim to be direct, honest, caring and nonjudgmental. I value the knowledge you carry and want to honour your expertise by inviting you to co-create a space in which you can feel comfortable sharing your experiences and gain a deeper understanding of yourself.
My approach is strength-based, using an intersectional feminist and anti-oppressive framework that is rooted in social justice and is trauma-informed. I believe that systems of power and privilege have a profound impact on mental health and exploring how these systems relate to you is an important part of healing.
Certifications, Memberships, Accreditations:
• Registered Social Worker with the Ontario College of Social Workers and Social Service Workers (OCSWSSW)
• Member of the Ontario Association of Social Workers (OASW)
Areas of Special Interest:
I am trained in acceptance and commitment therapy (ACT), narrative therapy, and cognitive behavioural therapy (CBT). I specialize in helping people coping with feelings related to sadness; depression; anxiety; loneliness; life transitions; trauma; grief, bereavement and other forms of loss. Further interests include identity, self-esteem and body image using a 'Health at Every Size' body-positive approach. I use a variety of therapeutic modalities and personalize to best suit my clients.
Education
• University of Waterloo: BA (Hons) Social Development Studies - Psychology
• Wilfrid Laurier University: Masters of Social Work